Carlingford and The Cooley Peninsula offers a rich collection of Places to Eat and Drink –  Street Food, Cafés, Irish Pubs, Gastro-Pubs, Take-Aways, Fine Dining Restaurants, we have them all.
As a cyclist, I get the chance to spin all around the Peninsula so I have visited most places at some time and indeed I am always looking to find and try somewhere new. My list is not just pubs and restaurants, it's everywhere I know where you can get a drink, a snack or a more substantial meal. 
This is my personal guide to Eating & Drinking whilst visiting the Carlingford and The Cooley Peninsula. I haven't knowingly missed anyone out – and of course things change – but if I have missed you it is probably because I haven't visited yet ! Email me on info@onyerbike.ie and I will ride out to visit you & add you to the list.
Unusually, I am going to start in Omeath and work my way round, ending up in Carlingford. I often ride this way when I manage to get a day off with my first stop being Café Rosa.
What can you find in Omeath?
Café Rosa – after a 7km spin along the Greenway or a walk along the Tain Way, Café Rosa has a wide menu with fabulous Cakes, Coffee, Paninis, Full Irish, you name it.
Granvue Hotel – fabulous views across and along Carlingford Lough, you can enjoy a pint and fresh food for an extensive menu whilst taking in the fresh air and the sights
The Strand Hotel – extensive frontage by the Lough, the Strand is a historic hotel which is best known by our guests for Afternoon Tea
Howe's Bar – situated at the foot of 'Howe's Hill', the steep route up to Long Woman's Grave is Howe's Bar which I would describe as a traditional Irish village pub
Sister Chips – is a 50s inspired style Diner and Take Away with an extensive menu and wide range of quality home made dishes
Mena's Chipper – situated on Omeath Pier, Mena's is a favourite with many of our guests during the season as they sit and enjoy freshly cooked food before their ride back to Carlingford
Mace –there is a café and shop in the petrol station for food & drinks
Barry's Shop – On Station Road, Barry's is a local shop selling food, drinks, snacks, ice cream
Mulligan's  – The Corner House was established in 1952, they sell ice cream and everything else imaginable
Top Oil Service Station – on the crossroads, ideal for a Costa, sweets, drinks, crisps
Euro Fuels – just opposite Cornamucklagh House has been a life saver on occasions as they sell chocolate
Cornamucklagh House – just on the corner of the road up to Long Woman's Grave is this  bar and restaurant which provides a wide range of drink & food 
You need to be fed and watered before you cycle up the 7.5km hill to Long Woman's Grave and down into Jenkinstown.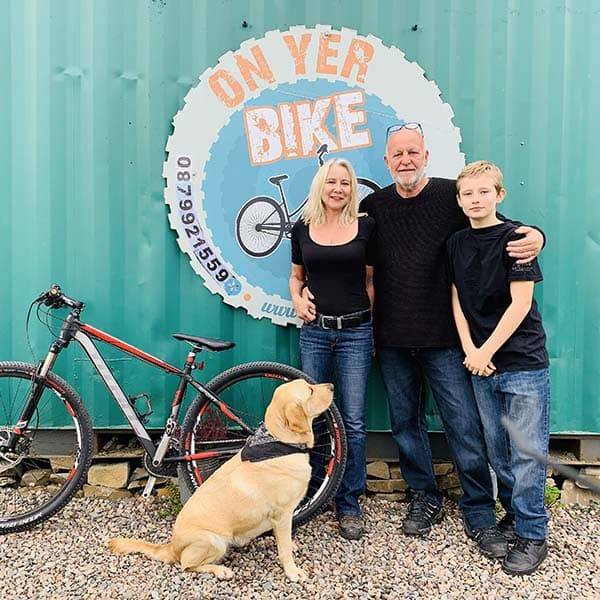 You've conquered the climb, reached Winday Gap and now it's time to ride down to the Cooley Peninsula Coast. The road down to Jenkinstown is absolutely fab as is the road through Glenmoor down to Bush. So where can you find to recharge your batteries with some food and drink??
Lumpers – is an obvious must-do ! Fabulous historic pub with all you can possibly eat and drink. very cyclist friendly. 
McCrystals XL – a convenience store just off the main R173. Everything you might need there and recently they established a CycloCross track which I haven't tried yet – but I must !
Bellurgan Service Station – on the main road and stocks everything carb and liquid wise that you might possibly need. At this stage we're not cycling to Dundalk so I am just skipping Dark Horse Pizza, the Blue Anchor and the famed Strandfield for now. Ok, let's do it . . .
Dark Horse Pizza – it's well worth taking a ride down to Bellurgan point. As you reach the coast, turn left and a few meters along is Dark Horse Pizza. Amazing vegetarian food, vegan coffees etc. I was a tad sceptical at first but had THE best pizza ever
Blue Anchor – literally at Bellurgan Point and well signposted off the R173, a coastal pub with plenty of food and drink options and great views
Strandfield – renowned vegetarian cafe / restaurant with an organic farm shop. Super popular so expect a queue. Has been mentioned in Top Irish Restaurants and won various awards. It's a 'destination ride for sure if you feel up to it. You will however have put in quite a few KM on the main road which has a number of BEWARE stretches
Fitzpatricks – another award winning pub / restaurant on the main Dundalk to Carlingford Road. Leave Bellurgan in Greenore direction and you can't miss it
Obviously you can't stop everywhere but as you get to Lordship you have a choice of The Station House and Giovanni's
Around Gyles Quay you could have stopped at Sheelan's Shop – just off the R172 and signposted or taken a spin down to Gyles Quay itself where you find Ferguson's at the caravan and camping park
Still in need of sustenance ? In Riverstown you have Carlingford Brewery, Martin's Pub and New Century Chinese Takeaway
I'm getting hungry and thirsty just writing this!
 Onwards we go . . .and in my opinion, saving the best for the last . . .
At Grange, just off the R173, there is Barry's Shop – has everything you could possibly want and ICE CREAM which by now you need. A little further up the Grange Road is John Long's Bar where you can have a real good feed in this historic pub.
Greenore is an historic town built for the Dundalk, Newry and Greenore Railway in 1873 that linked to the Greenore to Holyhead ferry link run by London & North Western Railways. There you will find Greenore Golf Club and also the Greenore Co-op where you could possibly throw some Victorian clothing over your Lycra and enjoy afternoon team in Victoria 

splendour
And the finale of my 'Out for a Spin on the Cooley Peninsula" blog is Lily Finnegan's Pub in Whitestown 
Why ? Because as much as I love every single place I have mentioned, this is my favourite. It's not because Joe Biden's ancestors come from Whitestown and that the President of the United States of America not only visited there on an official visit in 2016 (and then popped back another time in jeans for a pint), it's because for me it is just on my bike ride itinerary and that's that.  Derek, the landlord is very friendly, as are the locals, and whilst they don't do food as such, your will be full as a frog by now having stopped for a cake in about 20 places so a pint is what you need !
Carlingford is a whole different blog and for now at least, you can visit www.discovercarlingford.com to get the low down on all the places that you can Eat & Drink, Shop and other activities to do. Also you can visit our sister website www.carlingfordloughgreenway.com to find out more about the spins to Newry and on to Portadown
 Joe Biden said to his security man in 2016 when he asked where he was –  "Man, you're in Heaven!" Well as a cyclist, I have to tell you that if you're here, then you are in cyclist's heaven. And if you are not here – you should be !!